Thom Majka Awarded Employee Distinction Spotlight
---
We would like to congratulate Thom Majka as our Employee Distinction Spotlight Award winner! This peer nominated award is presented on a quarterly basis to a DebtNext Team member who exemplifies superior performance and overall contribution to our Company goals.
Thom received three nominations which were all centered around his passion and interest in the success and growth of DebtNext Software.​
Thom's contributions to our organization have played a pivotal role in driving our company's growth and success. His ability to establish and nurture strong relationships with our Clients and agency partners has been instrumental in our growth trajectory. His unwavering commitment to expanding DebtNext Software into new growth verticals has opened doors to opportunities in Debt Management, Banking, Telecom, and Waste Management Services, and others while also maintaining our strong presence in the utility sector. ​
This year Thom has played an integral role in Client Health checks, providing feedback on internal presentations as well as setting the tone on each presentation letting our clients know that they are special and that they are getting the best from DebtNext Software and their designated support team.​ Also, Thom spearheaded the Accredited Partner Program, without Thom's leadership and hard work, that Product would not have been possible.​
Congratulations to Thom on this achievement!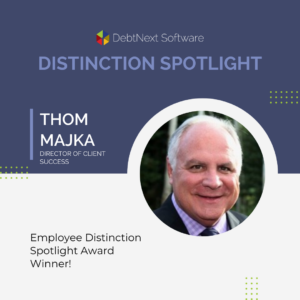 ---