DebtNext Software is excited to announce that DCM Services (DCMS) is now an associate of their Vendor Select Program. DCM's deceased and probate identification and recovery solutions bring forth creative workflows that ensure maximum return on client investment. Their offerings include Signature Service, a full-service outsource estate recovery solution, and Probate Finder OnDemand, an insource estate recovery software solution that provides access to DCMS comprehensive database and automated probate filing processes.
"DebtNext Software and DCM Services are aligned to provide technology-driven specialty account receivable solutions as a core focus to the industry. Working with two industry leaders with 45 combined years of experience will bring additional value to our clients and prospects."
Thom Majka, DebtNext Director of Client Success.
"DCM Services is honored to be a member of DebtNext Software's Vendor Select Program.  We have partnered with DebtNext on several shared clients and have great respect for DebtNext and the excellent services they provide.  Like DebtNext, DCM Services provides solutions to organizations that seek to create additional efficiencies through software and automation.  Now more than ever, leveraging technology and automation is key to creating probated estate and specialty account processes that enhance the consumer experience and maximize recoveries."
– Tiffany Jansen, DCM Services SVP Business Development
To learn more, contact sales@debtnext.com
---
DebtNext Software is pleased to announce that we are now integrated with Georgia Power. Georgia Power is an electric utility who is dedicated to helping power the state of Georgia while keeping it a place for their community to prosper.
As a utility provider to over 2.5 million Georgians, Georgia Power was in search of a solution that would help set them up to be able to optimize their recovery strategy. DebtNext and Georgia Power worked together to design and implement a solution that will help fuel their recovery management process. DebtNext Software is proud to be partners with Georgia Power and is looking forward to providing them with an ongoing solution.
---
We would like to congratulate Eric Port as our Employee Distinction Spotlight Award winner! This peer nominated award is presented on a quarterly basis to a DebtNext Team member who exemplifies superior performance and overall contribution to our Company goals.
Eric received two nominations which were all centered around his passion and interest in the success and growth of DebtNext Software.
Congratulations to Eric on this achievement!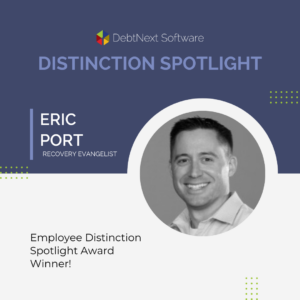 ---