The DebtNext Team recently visited Canal Park to watch the Akron RubberDucks take on the Binghamton Rumble Ponies. The RubberDucks are a minor league baseball team based in Akron, Ohio.
At the event, our team enjoyed a picnic at the park as well as the baseball game. This was the first team outing for several of our new team members, so it was a great opportunity to get everyone together in one place.
The DebtNext Team had a great time at this outing and are looking forward to our fall team outing at Foundry Social.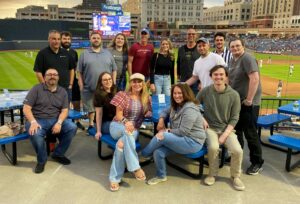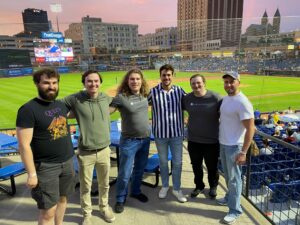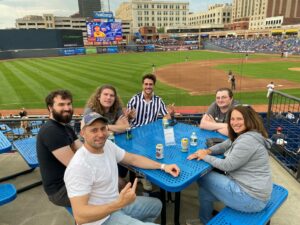 ---
As a part of each new team members onboarding to DebtNext, we include education on a wide variety of topics in order to help set our team up for success. With the recent addition of five new DebtNext team members, we have prepared many different educational opportunities. This week was full of learning for our newest DebtNext team members. These learning opportunities included topics on infrastructure, dPlat implementations, clients, sales demos, and the history of DebtNext.
The High-Level Sales Demo was presented by our Product Specialist, Frank Ellenberger. He was able to show our new team members what it is like to present our product to a potential client. This demo also helped to teach our team about some of the most important features that our software has to offer.
The History of DebtNext was presented by DebtNext President, Paul Goske, and Director of Client Success, Thom Majka. Thom and Paul spoke about our product offerings, software, clients, and industry. They were able to help our newest team members understand what it is that we do, what problems we solve, and what our Platforms purpose is.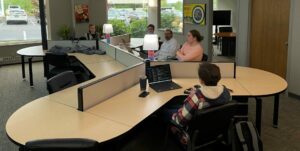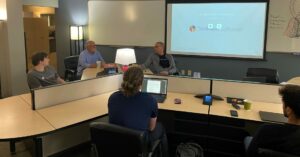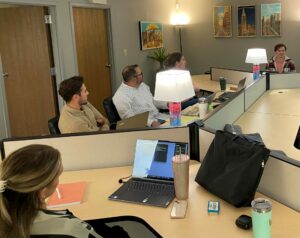 ---
Our 2023 DebtNext Enhanced Onboarding Program has officially begun. The Enhanced Onboarding Program is designed to onboard recent college graduates and teach them a wide variety of skills and topics that are applicable to being a successful employee at DebtNext. We are excited to announce that the most recent members of this program are Colby Lackie, Peter Kocsis, and Michael Tatarowicz.
Colby recently earned his degree in Cyber Security from The University of Akron. He is most excited about learning how DebtNext provides infrastructure solutions for our clients and how we protect their information. "I chose to work at DebtNext because it is a smaller company and I like having a closely knit group of people that all work great together," said Colby, "I also chose DebtNext for the fun and engaging environment they provide. There is so much opportunity for me to grow here and really challenge myself."
Peter Kocsis is also a graduate from The University of Akron. He earned his degree in Marketing and is especially interested in working with clients. When asked what his favorite thing about DebtNext is so far, Peter said, "I am enjoying the EOP and the rest of the team members that are in it with me. I really like learning about the industry and how DebtNext provides benefits to their clients."
Michael Tatarowicz graduated from Bowling Green State University with a degree in Computer Science. "My favorite thing about DebtNext is the people that I have met because everyone is willing to help me learn and are willing to answer questions," said Michael. Michael is looking forward to learning more about our software, dPlat, and its development process.
Please join us in welcoming Colby, Peter, and Michael to the DebtNext team. We are excited to have them onboard and cannot wait to see what they can accomplish here at DebtNext. To learn more about the DebtNext Enhanced Onboarding Program, click here.
---